Vaccine Manufacture Meeting The Challenges Of A Pandemic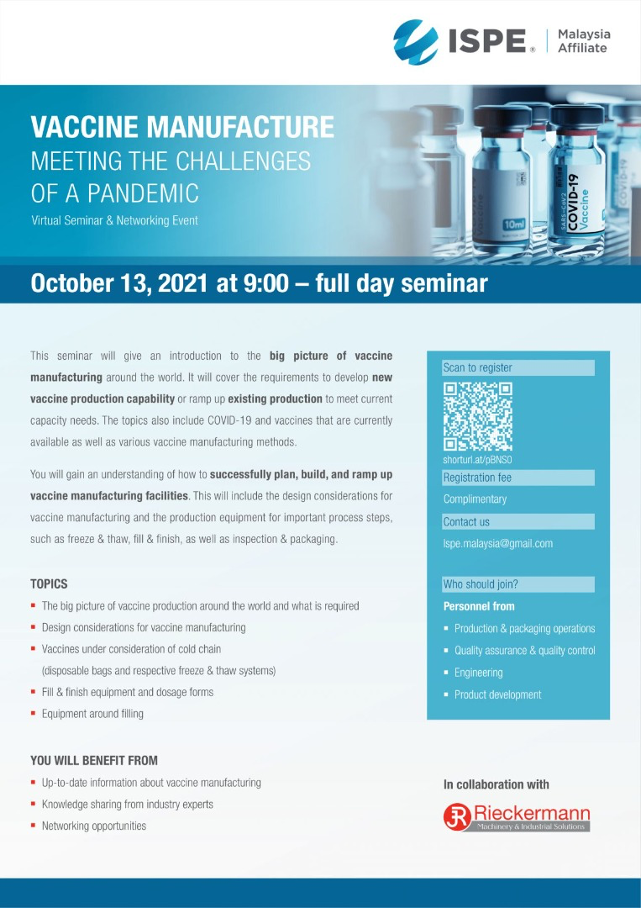 ISPE Malaysia collaborated with Rieckermann Machinery & Industrial Solutions will conduct a full day seminar on the topic of Vaccine Manufacture – Meeting The Challenges Of A Pandemic.
This seminar gave an introduction to the big picture of vaccine manufacturing around the world. It covered the requirements to develop new vaccine production capability or ramp up existing production to meet current capacity needs. The topics also include COVID-19 and vaccines that are currently available as well as various vaccine manufacturing methods.
Participants gained an understanding of how to successfully plan, build and ramp up vaccine manufacturing facilities. This includes the design considerations for vaccine manufacturing and the production equipment for important process steps, such as freeze & thaw, fill & finish, as well as inspection and packaging. In addition, they also gained an up-to-date information about vaccine manufacturing, knowledge sharing from industry experts and networking opportunities.
Topics covered:
Seminar details:
Date: 13 October 2021
Time: 9 AM – Full day seminar
Fees: Complimentary to all ISPE Malaysia members.